Motorhome WiFi Solution
We offer a very solid and reliable motorhome wifi solution with external antenna, 4G router with built in WiFi. Our motorhome wifi solution can also be installed in campervans and caravans. We use the best quality 4G Router, the Cradlepoint IBR900 Mobile 4G Router and the top of the range quality Panorama SHKG-6-60 Outdoor 4G/5G antenna. Our motorhome wifi solution can be remotely monitored and managed by WiFiMax (as an optional feature for you), delivers dual band superfast WiFi and 2 WAN options to connect to internet (the 4G Dual SIM modem and also the WiFi WAN that allows you to connect the router to a local WIFi provider and relay your own wifi connection).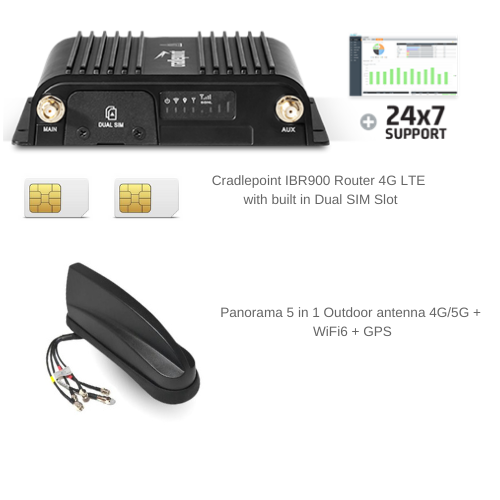 $ 1,999.00
1 x Cradlepoint IBR900 4G router
1 x Panorama SHKG-6-60-DW MIMO 4G/5G/WiFi6/GPS outdoor antenna

1 x Accessories Pack (12V/2A Power supply, Direct Wire GPIO cable, extension cables, etc)
1 x 12 Months remote management & IT support included in the price
Delivered as plug & play complete kit solution
All configured ready to use kit
Use your own SIMs or use WiFiMax 4G Plan
Price is NZD and GST and courier inclusive. 36 Months warranty for all equipment supplied.